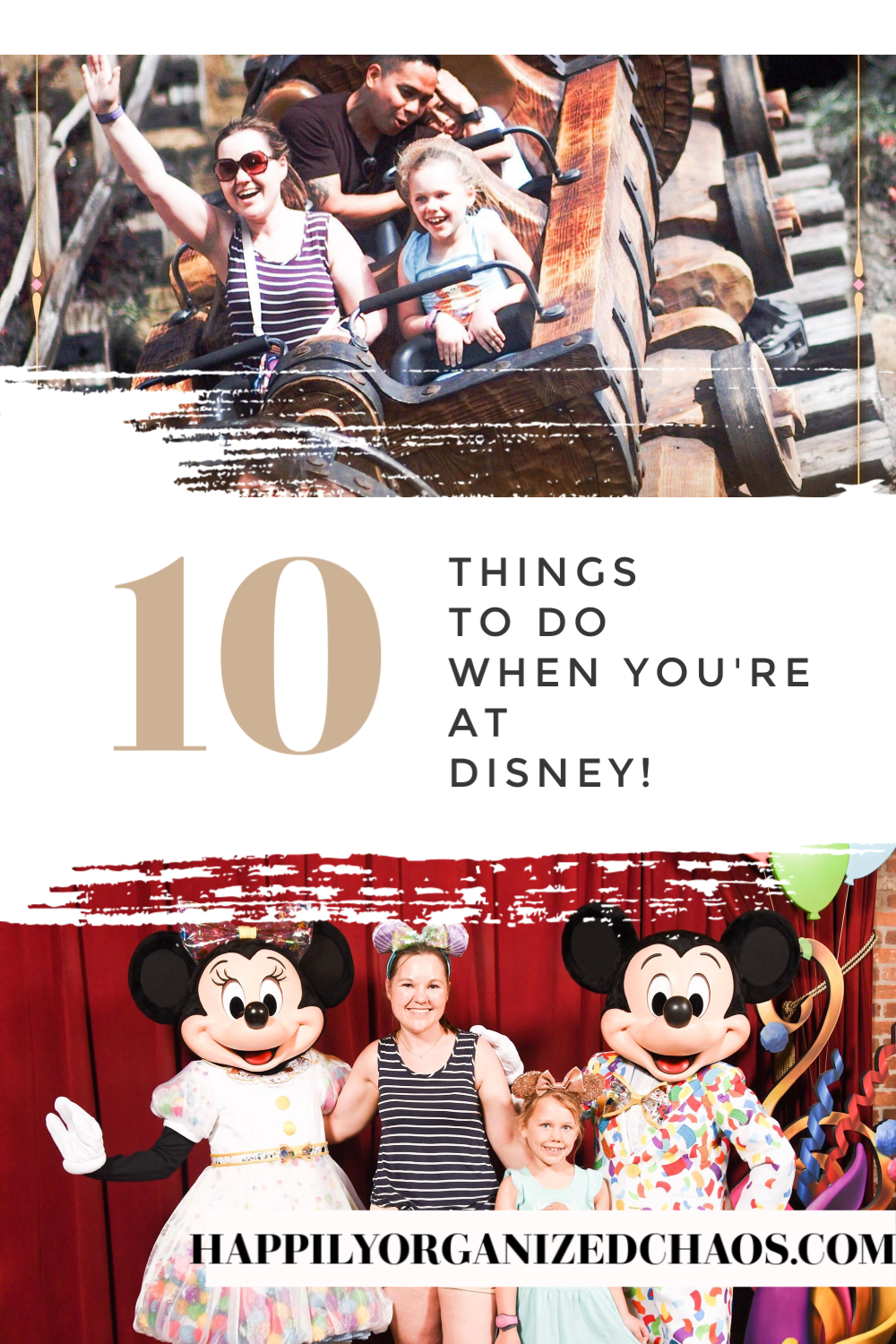 By now I think everyone knows I have a love of Disney World. There is no other vacation spot I would rather go to, I love it, my husband loves it and my two children ask basically every day "When are we going back to Disney?" So needless to say, we are a Disney family and will be going for many years to come. Heck, I'm going to be that Disney mom that continues to go even when the kids are grown and moved away from home. So I thought a fun post would be my top 10 favorite things to do at Disney World. Honestly, I found it hard to narrow it down but I managed, so read on to find out what I love to do while vacationing at my all time favorite place, my second home, Disney World!
10. Visit Disney Springs– If you like to shop and want a day away from rides and attractions, Disney springs is the place to go. There is literally something for everyone! Filled with many stores and restaurants to visit, some of my favorite places to go there are Basin, World of Disney and Disney Day's of Christmas (seriously, Christmas and Disney can it get better?!)
9. Have a Dole Whip– you can not visit Disney and not try the famous Dole Whip! What is a dole whip you ask? Well, if you are unfamiliar with the yummy treat, it is a soft serve frozen dessert made from puree and water and then frozen. You can get it in three different flavors; vanilla, pineapple and orange (Pineapple being the most popular and also my favorite) You can find them for sale at Aloha Isle which is located in Adventureland in the Magic Kingdom Park. You can also find them at Disney's Polynesian Resort.
8. Pictures with Characters– I know I am an adult but seriously I love getting pictures with the characters. When we went before we had children, I made my husband wait in line to get pictures with pretty much every character. If you don't want to do that, then you at least have to get your picture with Mickey and Minnie 🙂
7. Kilimanjaro Safari- It's like going to visit Africa and going on a safari but you are still at Disney. It is a great way to see a bunch of exotic animals. You have to do this on your trip!
6. Ride the 3 Mountains– Space Mountain, Splash Mountain and Big Thunder Mountain are the 3 rides you do not want to miss. Big Thunder is my favorite but I enjoy the other two as well.
5. Parades– Watching the parades is something I have always loved to do, whether it is a local parade at home or one at Disney, and if you have experiences the parades at Disney, you know there is nothing like it! So stop, watch and take it all in because I guarantee it you will not regret watching!
4. Soarin'– Words can not express my love for this ride. Located in Epcot, Soarin' takes riders on a breezy, hand gliding adventure. Honestly, I have to admit I did prefer the original ride better than the refurbished version, but it is still one of my favorite things to do at Disney!
3. Seven Dwarf's Mine Train– This roller coaster is amazing. When we were at Disney a cast member told me that this coaster is kinda like what would happen if "Barnstormer and Big Thunder had a baby". This description is something I feel very fitting.
2. Experience Character Dining– We usually stay off property (NOT my idea, my husbands and that is a whole other post) but I ALWAYS make it a point to try a new Disney dining experience, character meals being a favorite. One that we loved was Chef Mickeys, the whole family enjoyed the food and the characters were great and very interactive with the kids. I can't wait to try some new ones we have booked for our upcoming trip. I'll fill you in on those in another post 🙂
and my all time Number One favorite thing to do at Disney is……………..
1. Fireworks- What a better way to end your evening but to watch the fireworks in front of the Magic Kingdom. Wishes was my absolute favorite show at the Magic Kingdom and I am very sad that I will not be able to see it again, since the next time we go Disney will have their new fireworks show "Happily Ever After", which I am very excited to see. The new show starts May 12th, 2017! We have also seen the Star Wars fireworks at DHS, which is amazing as well!!
Please leave me a comment and let me know what your favorite thing to do while you are at Disney 🙂 Like I said previously, it was so hard for me to narrow it down. Please follow me on twitter and my facebook page to stay current on new postings. Coming up will be Madeline's and Connor's Top 5 rides at Disney!!